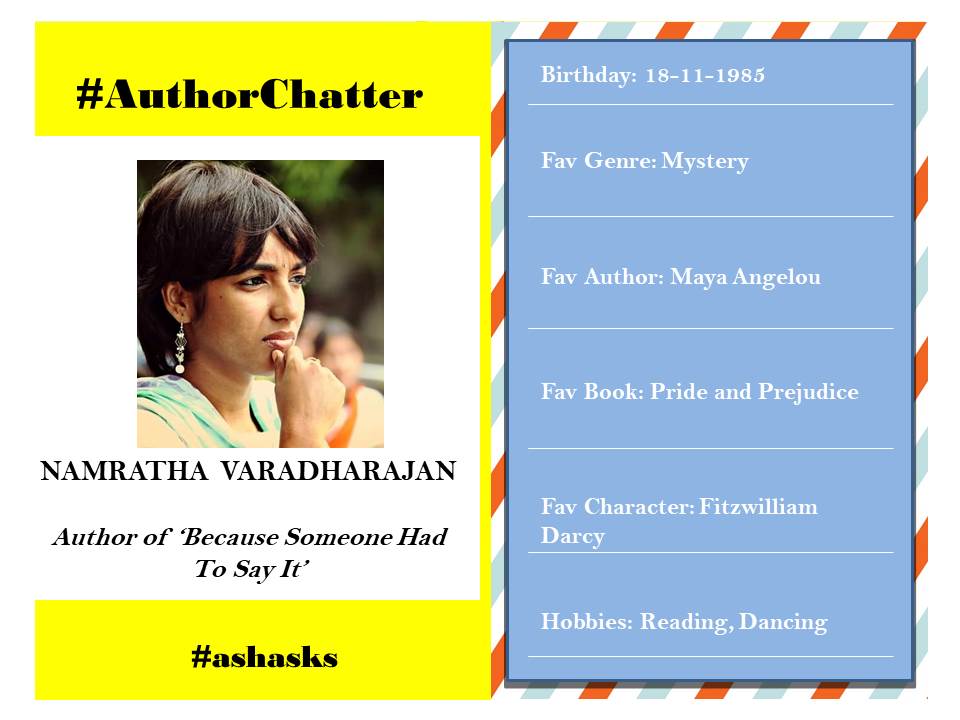 Today I have the privilege of sharing an interview with one of the finest budding poets I have come across. I remember reading each poem and wondering 'How beautiful! How profound!' I would picture it all very clearly and I would nearly always get goosebumps at the end of each poem because the words moved me in the most wonderful way. 
 Namratha Varadharajan or Namy as she is fondly known, has written an incredible collection of poems each of which is an ode to an important social organization, movement or cause. 'Because Someone Had To Say It' is idealistic but not preachy. The book puts the spotlight on important issues but not in an attention-grabbing way. 
As a lover of poetry, I took this opportunity to ask Namy about her thoughts on the genre. And her answers surely helped me appreciate it so much more. My favourite part of the interview? When I asked her if she could be a season, which one she could be and she replied in verse!! 🙂 
This mom, wife and talented writer's ideal day would include ginger tea, her family, petrichor and a delectable book. Time to get to know Namy better!
Interview
1. A lot of people use poetry to write about something personal. You wrote a collection of poems using different styles of poetry each one of which highlighted an important cause. Do you think poetry like humour, creates a far-reaching impact?
A:
"I was angry with my friend; 
 I told my wrath, my wrath did end.
 I was angry with my foe: 
 I told it not, my wrath did grow."
                -William Wordsworth in 'The Poison Tree'
This essence of this poem, which I read in school, has shaped my reaction during several situations of my life. It has taught me empathy and an insight into my own emotions and stayed with me throughout the years. So yes, I believe poetry can have a far-reaching impact but there are a couple of challenges to overcome.
Poetry is read by a select few who have realized its worth. What was the last poetry book you read?
"Poetry goes over my head. I don't get poetry. "
This is the general reaction to poetry. With the exception of a few, (recently Rupi Kaur of "Milk and Honey" fame), it is difficult to reach the majority. This collection of poems is my humble attempt to initiate the uninitiated into poetry. Keeping this in mind, I have used simple language to immerse the reader into new thought worlds, and take them to the gates of the causes that I believe about.
I am passionate about equality, peace, women's rights, and the conservation of our planet. Hence each of my poems derives from one of these themes.
2. You create amazing images and your poetry sounds lyrical. What makes good poetry stand out from just lines that rhyme?
A: I don't think there is any fixed rule in poetry. The only thing that I look for is: does the poem have an impact on me? But that doesn't define good poetry either. I might derive nothing from a poem but it might change your whole life.
As one well-seasoned poet told me, "Each voice is unique." 
There are multiple techniques one can use to making poetry memorable but it shall take a full-fledged essay to get into the particulars. At the basic, using abstract and concrete words, using surprising language, choosing words which jive with the "mood" of the poem is some of the ideas I learnt from a poetry class I recently attended.
To sum up: I love creating images, getting the reader to see the colour of the sky, sniff the air, feel the sunshine or the bitter winds on their skin, and experience a myriad of emotions as they read my poems. I am yet to learn and experiment so much, to reach how I want "my voice" to be.
3. Who is your favourite poet and poem? Why? What inspired you to start writing poetry?
A: My favorite poet was Maya Angelou for a long time with "Still I Rise" and "Phenomenal Woman" running as my theme anthems.
"You may write me down in history
With your bitter, twisted lies,
You may trod me in the very dirt
But still, like dust, I'll rise."
How inspirational is that? 'Still, like dust, I'll rise.' I get goosebumps every time I read it. And for the times that you are in desperate need of inspiration, there is a performance video of it by Maya Angelou herself.
"Phenomenally, Phenomenal Woman" for me is about accepting, glorifying and enjoying one's own body. A very relevant theme in this era of selfies, low self-esteem and body shaming.
Here, I would like to add that my current favourite is e.e.Cummings. He has such a mastery overtone and images and uses perfect words at all the right places. It is exceptional. Here is what he says about spring:
"Spring is like a perhaps
Hand in a window
(carefully to
and fro moving New and
Old things, while
people stare carefully
moving a perhaps
fraction of flower here placing
an inch of air there) and
without breaking anything."
To answer your second question, I did not start writing poetry intentionally. I used it as a medium to express myself during one of the blogging challenges and I discovered that I loved it. And you should always do more of what you love.
4. How long does it take you to write a poem?
A: This is a difficult one. Sometimes it comes to me, like my muse (who may or may not exist) has all the words lined up at the tip of my tongue, waiting to be vomited out. So, I find the nearest recording pad and write down quickly before the words do a disappearing act. At other times, I won't get even a peep out for a week.
On average, maybe a couple of hours "when the time is right". But there is always a lot of editing involved. If you have noticed, most of my poems are short, some hardly 3-4 lines. But getting the words to sound right in my mind, and the poem to convey my intention involves a lot of deliberate effort.
5. Which is one of the most difficult styles of writing poetry? Which is the most underrated?
A: My poem "Not Today" which is also a part of my book "Because Someone Had To Say It" is written in the form of Kyrielle. I think this is one of the challenging forms I have attempted. It has quatrains, a rhyming scheme, a refrain and a fixed syllable count. But, there are more than a 100 forms of poetry and I have attempted less than 20.  I am at the foot of poetry mountain, but I do have wishes to reach the base camp and proceed all the way to top.
Haiku is a form of poetry that is well-known but highly underrated. Haiku has the incredible power to get you to an exact moment that the poet experienced. Here is one of the most popular haikus:
An old silent pond…
A frog jumps into the pond,
Splash! Silence again
Haiku is just 3 lines of 5-7-5 syllable count. However, haiku is great practice to say something profound, to capture entire moments in just a few words. It is like precis-writing with grace.
6.Would you like to explore different genre of writing? If yes, which one/s?
A: I have written flash fiction in the past and I do write about my personal experiences from time to time on my blog NamySaysSo. But, poetry has my heart (for now).
7. If you were a season which one would you be and why?
A: Thank you for this lovely question. It has definitely got me inspired.
I blow
then, reverse my direction.
Like a pregnant cloud
I am ready to cry, fall, pour at any moment.
I rage like bolt of lightning
and laugh and roll like thunder,
but I am the calm after the storm.
I am part green and vibrant.
part muddy and wallowing.
If you get a whiff of me
I would smell of petrichor, books and ginger tea.
Hahaha! 🙂  I do love to add petrichor and ginger tea to my poems. I couldn't be any other season than the Monsoon, probably an Indian Monsoon.
8. How do you overcome Writer's Block?
A: I have only a couple of tricks for overcoming the dreaded Writer's Block.
I visit a lot of poetry communities (thanks to my husband who fished them out for me when I had just started with poetry). I frequent dverse, Poets United and Imaginary Garden for Real Toads. All 3 have very active members, a set of helpful and encouraging poets. If I can't write, I read them. They have regular prompts that can unfreeze your brain and de-numb (ok, I know that is not a word, but should be) your fingers.
If nothing works, I just free write. I know you probably heard this before, but that is because it works! I just write without intention without a care of what I am writing. Then when I re-read it again I find some hidden gems to use.
9. Describe your process for research while writing.
A: Like most other writers, when I want to write about a topic, I read "a lot" about it. For writing a poem about a particular topic, it is not only important to just understand but a requirement to imbibe its spirit.
For this collection of poems, I first made a list of all the causes I wanted to write about. Then, I shortlisted the most inspiring ones. Then for each topic, I read about it extensively and decided what was the intention I wanted to convey through the poem.
Like for "Body-licious", I wanted the reader to get a sense of love towards his/her own body. In "Just A Child", I wanted to create an impression using a mixture of shock and empathy. In "Waddle", I wanted the reader to walk along with the tiny turtles as they took their first ever walk under the moonlight on the beaches of Chennai. In each case, I read about them until I absorbed the essence of the cause.
10. Share some valuable tips for publishing and marketing your e-book.
A: To confess the truth, I haven't publicized my e-book. I have only gone along with BlogChatter ideas (thanks BlogChatter!). I have only sent my eBook to a few close friends and generally shared on social media.
Hence, I am keen to learn from other authors about how they have marketed their book from their AuthorChatter interviews.
Thank you, Ashwini, Priya and Anshu for this unique and wonderful initiative!
eBook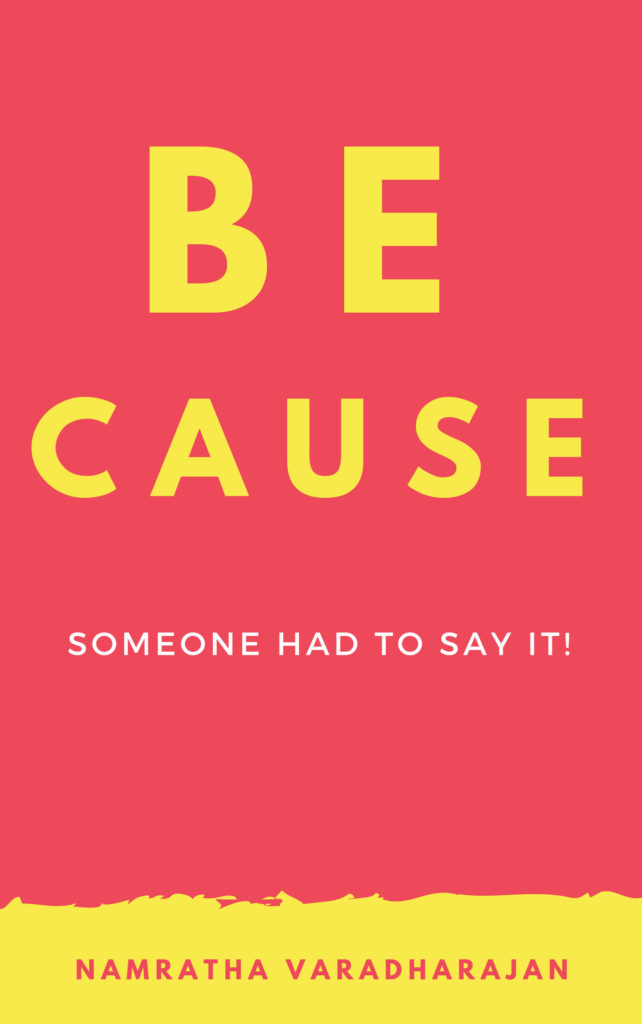 Book Blurb:
This collection of poems is a shout out to those who had immense strength when life dealt them an unfair hand, for those making this world a kinder and greener place to live in and for those not even whispering for themselves. BECAUSE Someone Had To Say It.
Download 'Because Someone Had To Say It' by Namratha Varadharajan and just soak in her beautiful and profound words. Check out her GoodReads page to know what others think of her book. Do read my review on the page as well! 🙂 Sitharam Jayakumar, Nupur and Reema D'Souza also have had some interesting things to say about Namy's book. You can also catch a video snippet with the author's dramatic reading of the eBook here.
Wish you lots of luck, Namy, for your eBook and all your future endeavours!!
Hey @NamySaysSo, you know I have been a big fan of your writing since I discovered your blog. Did you enjoy sharing your passion for poetry through this interview? Do comment and let me know thoughts. Readers, I am eager to hear your views as well. 
Shipra makes an appearance today on Anshu's blog. Shipra has published 'Spicy Trail', an amazing book about Indian spices and herbs. Priya speaks to Meghana who has written a story about a young girl's journey in her book, 'Ria's Diary'.
This interview is a part of a series conducted jointly by @anshuwrites, @priyreflects and me. I had a lot of fun interacting with Arjun Gupta, Rashi Roy, Tomichan Matheikal, Varad , Saba, Kanika G, Neha Tambe, Monika Davessar, Reema D'Souza and Deepa as well. In case you haven't caught those interviews, please do so and share your thoughts! Our aim is that each one of you finds something to take away from the honest and heartfelt experiences shared by the authors.