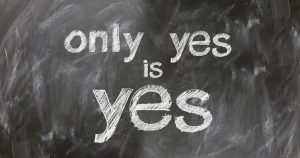 The Hindi Film 'Pink' made the following words resonate with every woman across the country: 'No means no'. When Amitabh said, "'Na' sirf ek shabd nahi, apne aap mein ek poora vakya hai ('No' is not just a word, but a full sentence in and of itself,)" India took cognizance. The film is credited to have broken down the idea of 'consent' to its simplest form for men to understand it better. The nation began discussing about 'consent' and importantly so. However, to my own surprise, something about 'No means No' bothered me. And then it struck me…why should a woman have to say 'No'?!
The wrong notion of Consent
We all have been guilty of letting hope interfere with our logic. When you ask your mom's consent to go for a night-out with your friends, and she does not consent, what do you do? You hope she will change her mind and then you badger her, until she gives in. Did she truly give her consent or relent to your pressure?
You must have heard the song 'Na na karte pyaar tumhi se kar baithe..'. Sung by Mohd. Rafi, the song from the Hindi film 'Jab Jab Phool Khile' expresses the popular sentiment perfectly. In almost all the songs from the 70's and 80's, the heroine would be depicted as coy and very 'proper'. She would have a change of heart only after many attempts made by her suitor. The moral – 'Never give up' because 'sabr ka phal meetha hota hai'. This kind of harassment has been our idea of 'romance'!