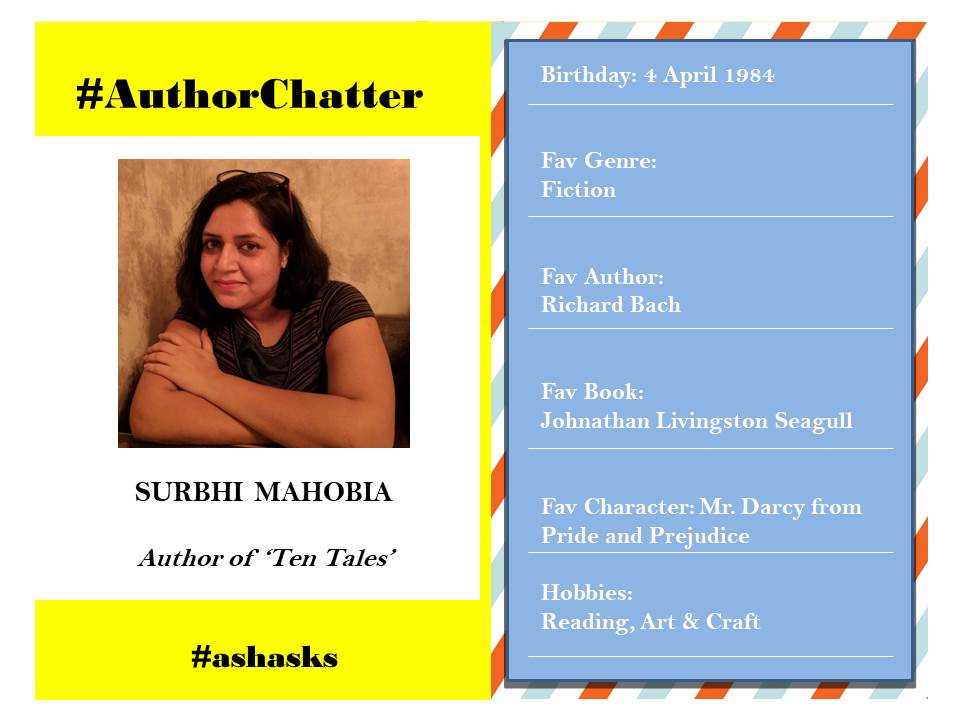 I have always admired people who can put themselves in other people's shoes. I think that a writer may live several lives through her stories. But writing for a reader who is very different from you requires a whole different skill-set. Especially when the reader is only a few years old but appreciates good storytelling. The author I shall be interviewing today has written a delightful book for children, 'Ten Tales'. Her stories may have takeaways but are not moralistic, are simple yet entertaining and are definitely not predictable. It gives me great pleasure to introduce Surbhi Mahobia to you.
Surbhi is a graduate in English Literature and a postgraduate in Mass Comm. She is a communications professional, freelance content creator and a blogger. She is an avid reader and a passionate storyteller. You can read her blogs at www.prettymummasays.com
I am sure that you will be as charmed as I was by Surbhi's 'honest' interview. So do read on. 🙂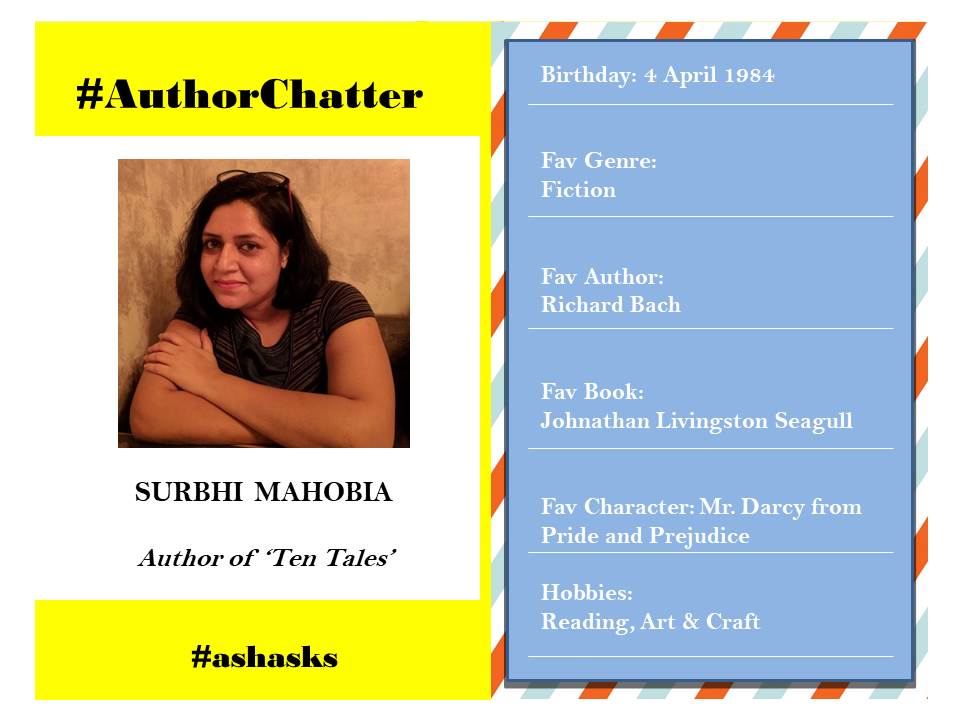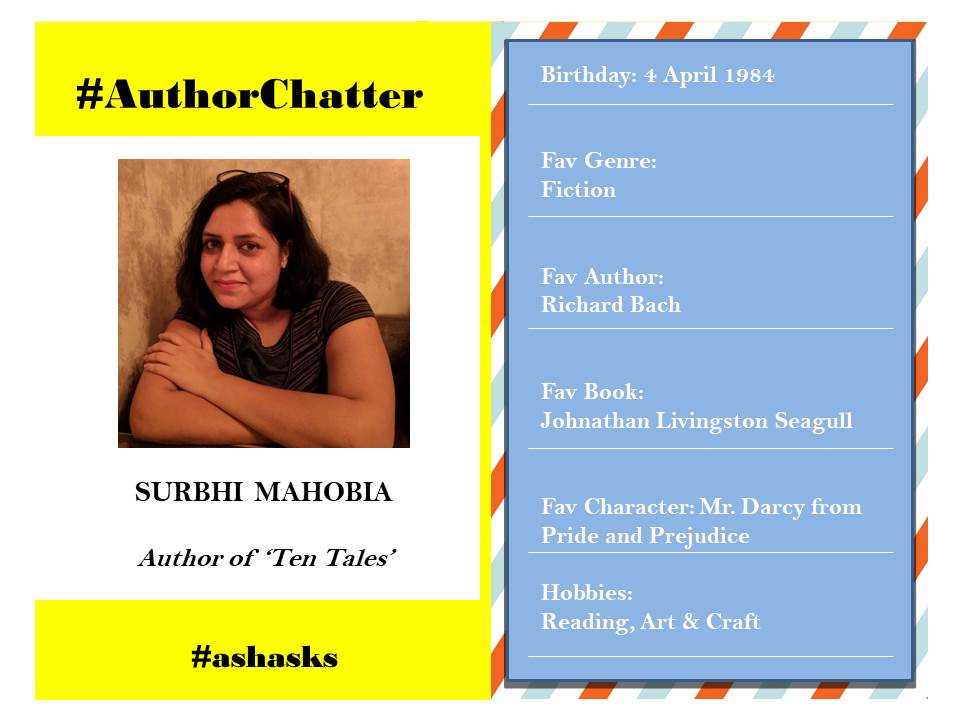 Interview
 1. You have written 10 fascinating tales for children. My favourite was 'Deep Blue, See'.  It deals with a serious issue. Tell us your inspiration behind this story.
Will you believe me if I tell you it was my 6 years old daughter's idea? I was so pumped up when A to Z challenge started, but I started running out of ideas. I randomly asked my daughter to give me an idea. So, she thought for about ten minutes and said, 'Mumma, I have an idea. You can write on 'deep blue see'. I used her idea and interpreted it as a story.     
2. What do you think are the key ingredients of writing a good book for kids? Did you take feedback from your children for some of the stories in the book?
It's tough to keep eight-year-olds to stick to a story for long, let alone a book. Using elements of surprise and suspense keep them engaged. Leaving the story or a chapter open-ended stimulated their imagination, which is also another way of keeping them glued to the book.
I sent out my stories to my nephews and nieces who are bookworms. They were sweet enough to read my stories and give an honest feedback. They were really encouraging.
It's been three months that my stories are published on my blog and been two months that my eBook is live. But whenever I ask my daughter to read my stories she replies, "Mumma, I will read my books first (which are bought from the market) and then your book." Need I say more?
3. What is the biggest myth about writing (not necessarily for kids, but generally) you would like to bust?
Honest writing – I am still exploring its existence.
4. Which book-to-movie adaptation did you love and which did you hate?
I absolutely love 'Memoirs of a Geisha'. A brilliant book which was extremely well adapted to a movie.
I think there was a huge scope of improvement in 'The Time Traveller's Wife's' movie adaptation.
5. What are the best children's books you have read as a child and those you have read recently to your children? Why did they appeal to you?
I grew up reading Chimmay Mission books, Tinkle, Chandamama and Nandan. I am also comics hoarder since time immemorial – DC, Marvel, Garfield, Asterix & Obelix, Chacha Chaudhary, Nagraj – you name it, I have it!
My daughter just started reading Gerenimo Stiltion books. I think the drama that has been created using the fonts and colours in them is sheer genius.
6. What would you do if you had a time machine?
If I had a time machine, I will go in the past to meet Dr Who.
7. How would you describe your evolution from a blogger to an author?
My writing has become focussed and has more depth. I have also become very serious about punctuation. As funny it may sound, punctuations should be taught as a separate subject and not just a chapter in the English grammar textbook!
8. How do you overcome Writer's Block?
I read. And I read until I get an idea or a hint. I also like to discuss with the grown-ups around (friends and family) for suggestions.
9. Describe your process for research while writing.
I read – not just books but anything I lay my hands on, including pamphlets. My major inspiration comes from real life events, scenarios and people. I stick to a character or a trait and build my story around it.
10. Share some valuable tips for publishing and marketing an eBook.
Read once, read again and read once more before hitting that publish button.
Get someone to read through your eBook – it can be an editor or someone who loves reading. People who love reading have a knack for spotting errors if any.
As the saying goes that never judge a book by its cover. However, in real life, an attractive book cover plays a vital role in attracting readers.
A solid blurb that compels the readers to download your ebook.
Lastly, get your friends and family to review your book on their social media. Helps in spreading word of mouth. 
eBook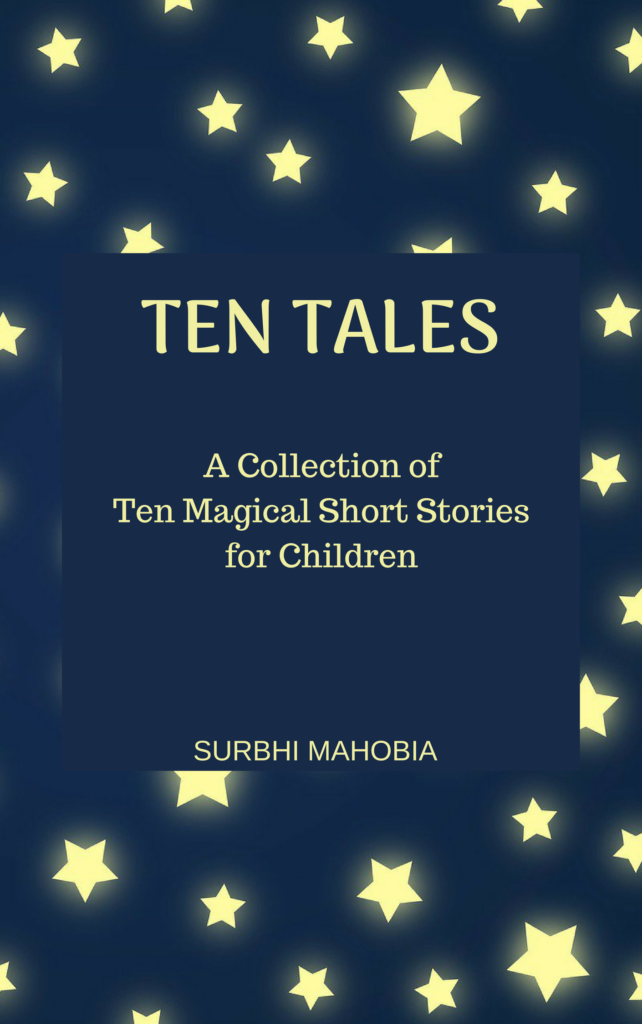 Book Blurb: Ten Tales is a collection of ten short stories for children aged 8 years and above. These stories are a mix of magic, mystery, thrill, suspense, happiness and excitement. They are sure to widen their imagination and give it a fresh perspective.

Here's the link to read the review of 'Ten Tales' by blogger and author, Mahak Wadhwani. You could also watch a small dramatic reading video snippet by the author posted here. Also please give a visit to Surbhi's Goodread's page. Finally, download Surbhi's book from BlogChatter's page. 
Best of luck, @thatssurbhi, for your eBook as well as all your future endeavours!!
Hope you enjoyed this interview. Please comment and let me know. 
Head over today to Anshu's blog to read Anami's interview & Priya's blog to get familiar with Roma's journey.
This interview is a part of a series conducted jointly by @anshuwrites, @priyreflects and me. I had a lot of fun carrying out virtual interviews with Arjun Gupta, Rashi Roy, Tomichan Matheikal, Varad, Saba, Kanika G, Neha Tambe, Monika Davessar, Reema D'Souza, Deepa, Namratha, Rashmi, Dr Amrita Basu and Priyanka Vermani. In case you haven't caught those interviews, please do so and share your thoughts! Our aim is that each one of you finds something to take away from the honest and heartfelt experiences shared by the authors.