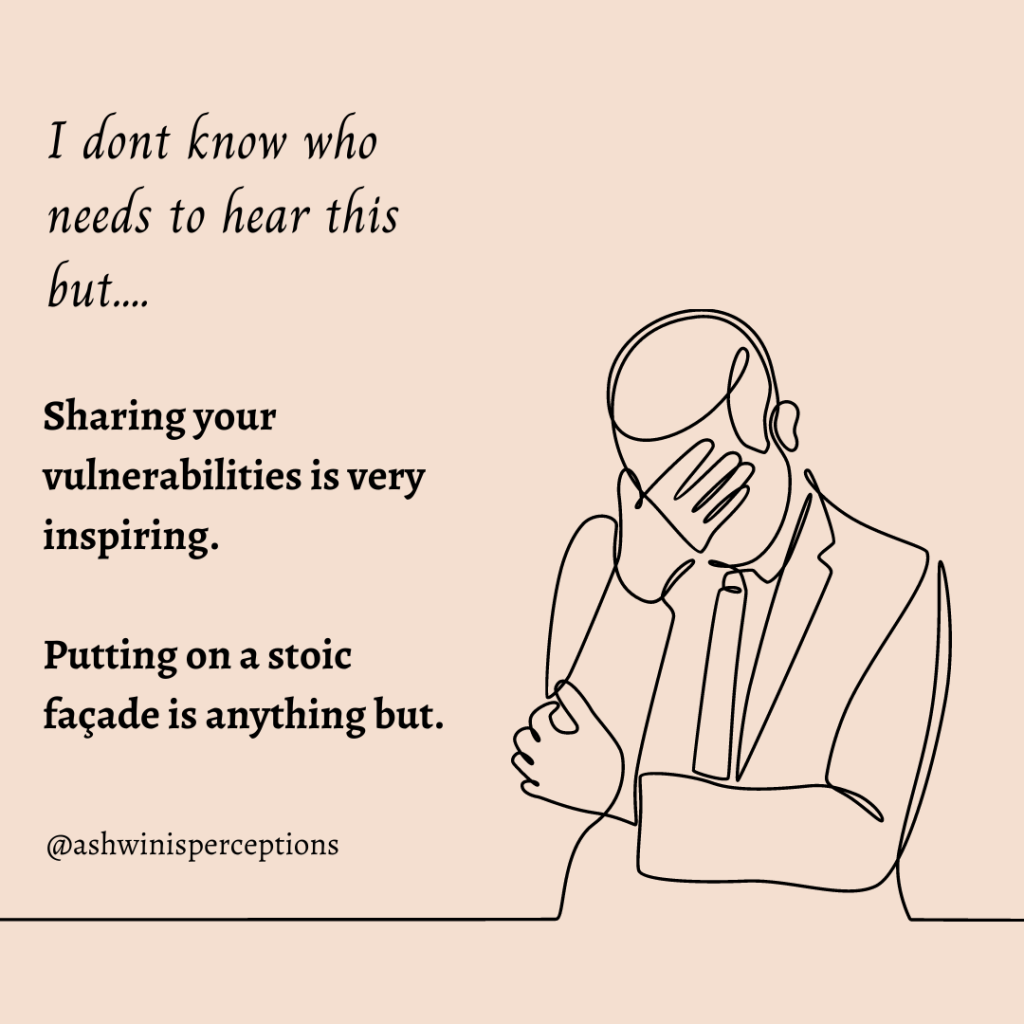 I don't know who needs to hear this but
Sharing your vulnerabilities is very inspiring.
Putting on a strong façade is anything but.
What inspired this post?
Yesterday, I went on Twitter and read a post from Rahul Desai, a film critic at Film Companion. It was filled with incredible vulnerability and pathos. He bared his soul about losing one of his closest friends. I have not lost anyone dear to me recently and yet when I read the post and discovered that he was also an introvert like me, I felt an intense connection that cannot be explained. When I read that, "I was always the quiet and reclusive one — the textbook meme introvert — doubting my own social skills and overthinking my awkward exchanges with people. ", I related hard. When I read, "For someone who has an all-or-nothing approach to all sorts of relationships — for someone who is constantly caught in a cycle of expectation, disappointment and dwindling friendships — I find it cruel that the only person I never had an argument with is gone." – I felt he was describing me! I cried a lot yesterday on reading this post. It was cathartic because I understood how lonely he felt on losing that one person who understood him. Thanks to all the trauma I have been through, I didn't know till my 30's that I was an Introvert and a Highly Sensitive Person. I have only now come to accept and embrace the positives of "feeling" more than most people. Today I have maybe two people in my life who kind of empathise with who I am. And if these two for some reason stopped being around me, I can't imagine what it would do to me. I would be devastated to say the least. Do read the post to just soak in all the honest sharing of pain.
Rahul's words made me realise how rare such openness is. 99% of people on social media want to project themselves as happy, confident and sorted people always having fun and setting about on new adventures and immersing themselves in the joys of the material world. There is nothing wrong with any of it – since we all do it time and again. But to shield people from the dark days, the challenges, the unresolved baggage is according to me a lost opportunity to engage with people.
Here are 5 well-known Indian Bollywood celebrities who were brave enough to be vulnerable in the recent past, making themselves more relatable:
Notice how the above list is all women? It's unfortunate that toxic masculinity causes men to mostly wear a stoic mask. This is why men like Rahul Desai need to be celebrated!
Why do we think being vulnerable is not being brave?
Is this post targeting happy people? No. Am I shaming people's coping mechanisms? I truly hope not.  I just want to normalise sharing deeply personal yet commonly-untold stories. If it makes anyone uncomfortable, they can choose to not read it. But they should not have the power to suppress other's thoughts. As a writer I want to write about what affects me the most. Having had a traumatic childhood and spent most of my adult life surrounded by toxic people has not been easy. I have just about started the arduous process of self-discovery. And I want to share it with the world. I have just started peeling the onion that is me. It definitely stings and I do understand there are people who don't want to see my "uncomfortable" posts appear on their timeline. I also understand why people don't like sharing their pain, issues and heartache. It's natural to feel like you will be judged. Also, if you have been in toxic relationships or had toxic parents, being shut down whenever you expressed your feelings could have made you get used to not sharing your thoughts or emotions and suppressing it all. We need to remember that when we go through tough times with a smile on our face, the lives of those around us is made peaceful and comfortable while not helping us at all! We need to remember that the only way out of emotional upheaval is through it.
Share your pain. Be more relatable. 
The more I write and read about the tough situations people go through, I realise that when you bare your soul and be comfortable in your vulnerability, you find your tribe. Whether it is talking about traumatic childhoods, relationships, breakups, divorce, unspoken challenges of being a mother or losing a loved one – you find the people who feel how you feel. There could be many who are probably not brave or eloquent enough to express their thoughts. Some may not even know what they're going through. I was gaslighted a lot in my childhood, teenage and early adulthood. I just didn't know enough about the pattern and hence didn't recognise the toxicity. I remember crying for a whole day when I got to know. If social media had existed in my teens and I had read about the damaging effects of narcissism and gaslighting, I would have kick-started my healing process sooner.
Today I know that all my bad experiences have taught me a lot and I do not consider myself a victim any more. In fact, accepting and talking about all that's happened to me has only made me feel empowered. Other writers tell me I have a strong voice. I write to share what I think are my weaknesses and lo and behold the world thinks I am strong! What they don't know is that it is overwhelmingly difficult for me to process my emotions and articulate my feelings. As I continue to share and write, I am hoping it will get easier. In the same breath, I also realise that oversharing is not healthy. But hey, one sets their own boundaries. Today with social media, every one has the power of impact in our hands, quite literally. We all know life is anything but a bed of roses. But just like Sonali Bendre shared images of her bald head while undergoing chemotherapy for cancer and Tahira Kashyap (Actor Ayushmann Khurrana's wife) as well as TV actor Chhavi Mittal displayed their post-surgery cancer scars proudly, let's share our emotional upheavals and exhibit our psychological wounds to the world as a sign of victory over our trauma.