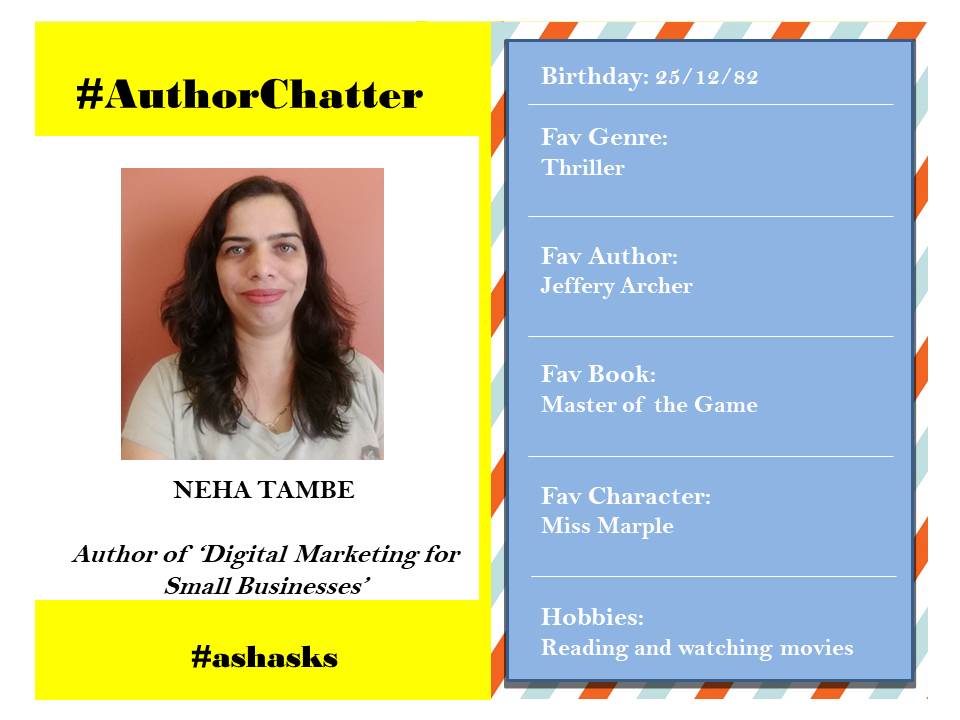 She identifies herself as a writer. So whether it is mommy posts or digital media strategy, brand endorsement or her recent attempts at fiction, she is quite comfortable, as long as she is writing. The author may have started writing to rant, but then realized that it could be a medium to establish herself as a brand. Now she rants with her friends when – wait for it – she wants to get rid of writing block! 🙂 I am sure you will have fun getting to know this writer through this free-wheeling interview. Say Hi to …Neha Tambe!! 
Neha Tambe is a blogger and freelance social media strategist who helps small businesses ace their social media marketing techniques. She is a Google Certified Digital Marketer and has over 6 years of experience in managing social media accounts.
Neha's wish for an unusually practical superpower, made me realize how much she enjoys efficiency! Read on to know more facets of Neha's warm personality.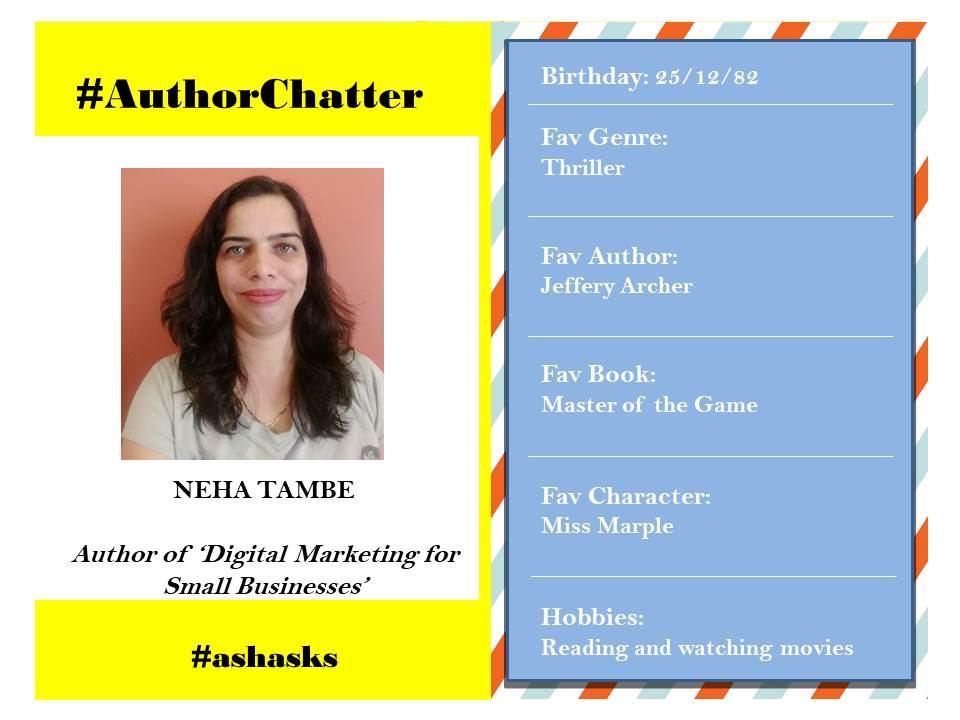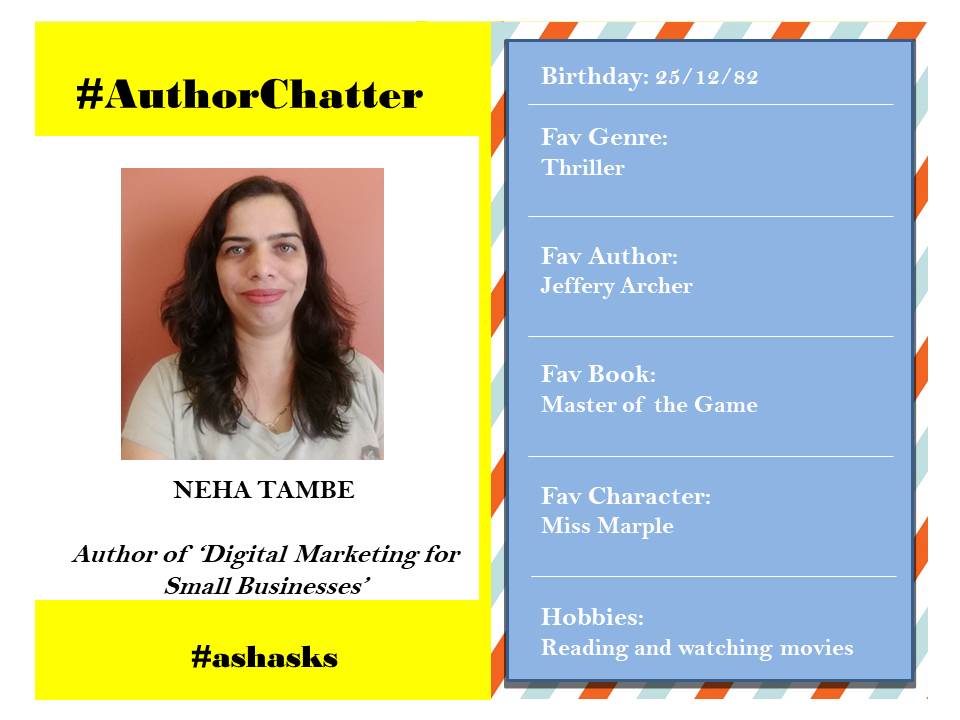 Interview
When did you begin your journey as a digital marketer? According to you, which platform is the most conducive and which is the toughest for a blogger/ small business starting off their digital marketing journey?
A: I started my digital marketing journey way back in 2008! I remember my center head had just come back from a trip to USA and was mighty impressed with the way business blogging was catching up there. He called me in and said 'This is the next big thing!' I want you to read up on it and do things that will help our clients! He even got me a few books to read.
Sadly, as that was before Barack Obama's awesome use of blogging and social media campaign for his presidential election, we had a tough time convincing the client to even try it for free!
Do you have writing goals for yourself? What do you do when you don't achieve them?
A: Yes! I function well with goals! I usually have this diary in which I mention my bullet points around goals. Every time I achieve a milestone there is a scratch on the line and a sizzling brownie treat for me! Why would you not achieve a goal when there is brownie at stake 😛 But in the odd event of not achieving a goal, I mostly read a nice thriller or watch a good movie.
Why do you write?
A: I started off, (the second time around) to just rant off a few things that were way too personal for me and I just couldn't bring myself to talk about it with anyone. Having worked in this space, I knew that if you don't want to be found, you can hide in plain sight. You need to work hard, only if you want to be seen.
Slowly once I had made peace with the past, I started connecting with fellow bloggers and one of the best ways for that was with BlogChatter. It was then that I realized my blog could be part-rant and part-learning. Today I write to educate and crusade for the things I believe in. I am writing to build a brand for myself.
Which book do you always pick up as a guilty pleasure?
A: I have a thing for thrillers. I can randomly pick any Agatha Christie novel and be sure that I will enjoy it. The same goes for John Grisham and Jeffery Archer.
Describe some of your personal strengths that help you while writing.
A: A few things that I believe are my personal strengths are Research, and appealing to the emotional side. When I am writing, I am speaking to the heart. One of my first projects when starting out was creating a story out of a bunch of pictures. This was an assignment given to three people and mine was chosen. I was told the reason for this was: though my language was simple; it was appealing to the emotions. This was the biggest compliment and a realization of my writing style long back. 
What is the one superpower you wish you had and why?
A: I would have loved to have a superpower where my thoughts could automatically be converted into a video! With a power like this, I would be developing the next hit thriller web series!
What is your greatest achievement?
A: In terms of writing and strategy, I think having my Audio Visual being appreciated by the Late Maharaja of Mysore Srikantha Datta Narsimharaja Wodeyar was certainly a big happy moment for me. As for my personal journey, writing a book is by far the biggest achievement.
How do you overcome Writer's Block?
A: I think I have a common solution for all kinds of problems. Go to a good café, have a sinfully delicious dessert and read a good book while consuming copious amounts of filter coffee or masala chai! Another solution is usually calling up my gang of friends and ranting my heart out or asking them how life is treating them! The results are usually amazing 😀
Describe your process for research while writing.
A: If I am writing about digital marketing, I try and understand the problems for which people are looking for answers. My understanding of the solution plus, some reads from authority sites, drawing from my experience and a few infographics complete the post. 
Share some valuable tips for publishing and marketing an eBook.
A: My first tip would be to read the BlogChatter series! I found it extremely helpful and would highly recommend reading that. Apart from that, it is important to be editing as you write. Keep small attainable goals and do find a beta reader who can share important feedback that will help you refine your product.
eBook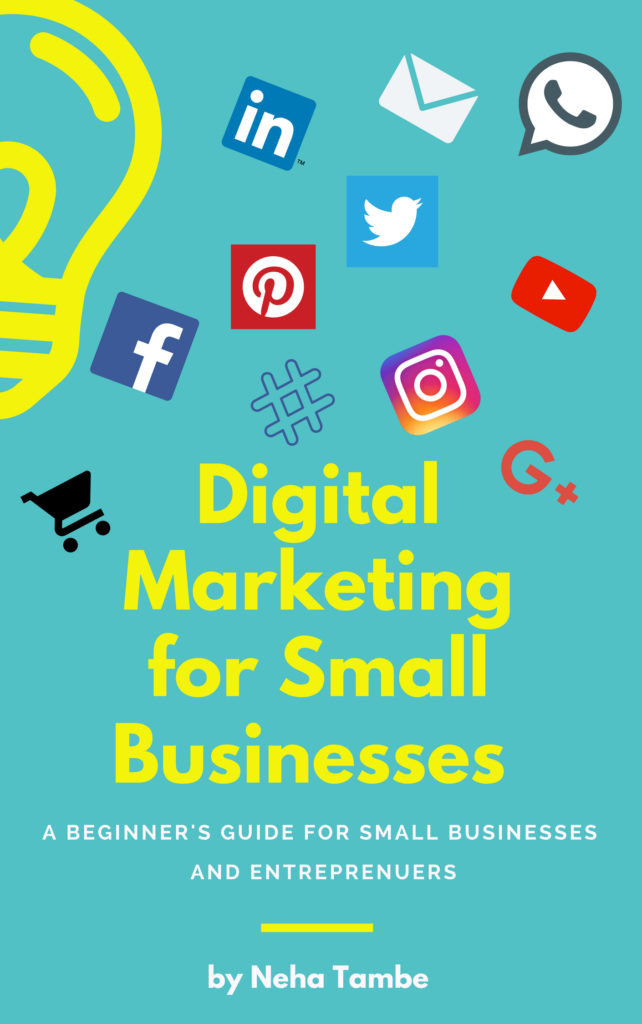 Book Blurb:
Online Marketing for small businesses is a beginner's guide for start-ups, small businesses and personal brands wishing to start online marketing. This guide will help them understand the jargons, to do things on their own to start with an online marketing plan.
Download Neha's eBook 'Digital Marketing for Small Businesses' from BlogChatter's page. You could also view a dramatic reading conducted by the author here. Romila reviewed Neha's eBook here. 
Neha, heartfelt best wishes for your eBook and all your future endeavours. 
Did you enjoy this interview, @nehatambe? How was it for you, the readers? Do comment and let me know thoughts.
On Anshu's blog today you can meet PraGun and while Priya unravels Lavanya' personality. 
This interview is a part of a series conducted jointly by @anshuwrites, @priyreflects and me. I had a lot of fun interacting with Arjun Gupta, Rashi Roy, Tomichan Matheikal, Varad , Saba and Kanika G as well. In case you haven't caught those interviews, please do so and share your thoughts! Our aim is that each one of you finds something to take away from the honest and heartfelt experiences shared by the authors. 🙂