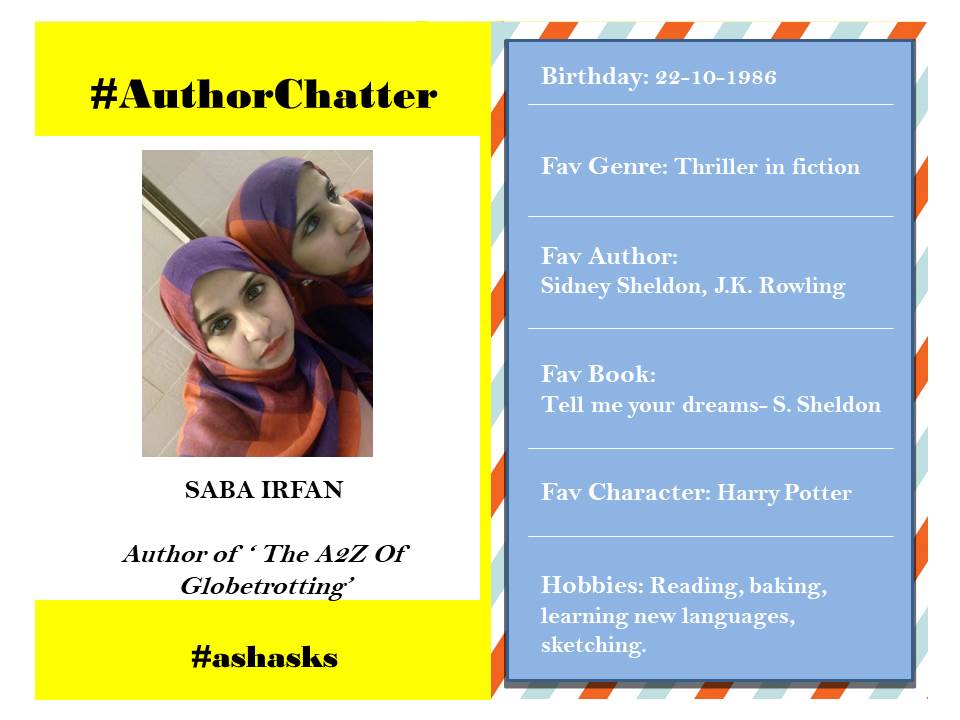 To travel the world is a dream that most of us cherish. The exposure to different cultures, cuisines, lifestyles makes us more accepting of the diversity around us. The author you will meet today has written a book that allows you to travel to 26 enchanting travel destinations right from your chair! That's my kind of travelling – no packing, no planning, just a book and some imagination! 🙂 
Let us get to know the woman behind the fascinating book …Saba Irfan!! 
Mumbai based food, fashion, parenting, travel and lifestyle blogger, Saba Irfan is passionate about exploring everything about life. A mother of 3 and with knowledge of more than 6 global languages Saba is all set to conquer the world with her writing skills.
In which unlikely place and at what unearthly hour does Saba get inspired? Read on to know more.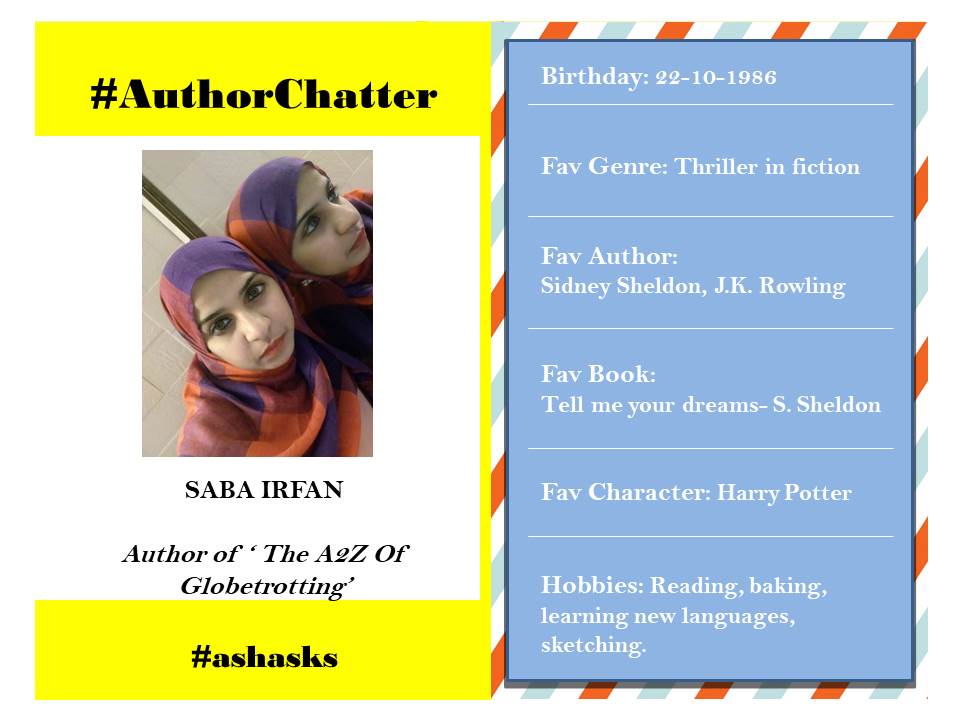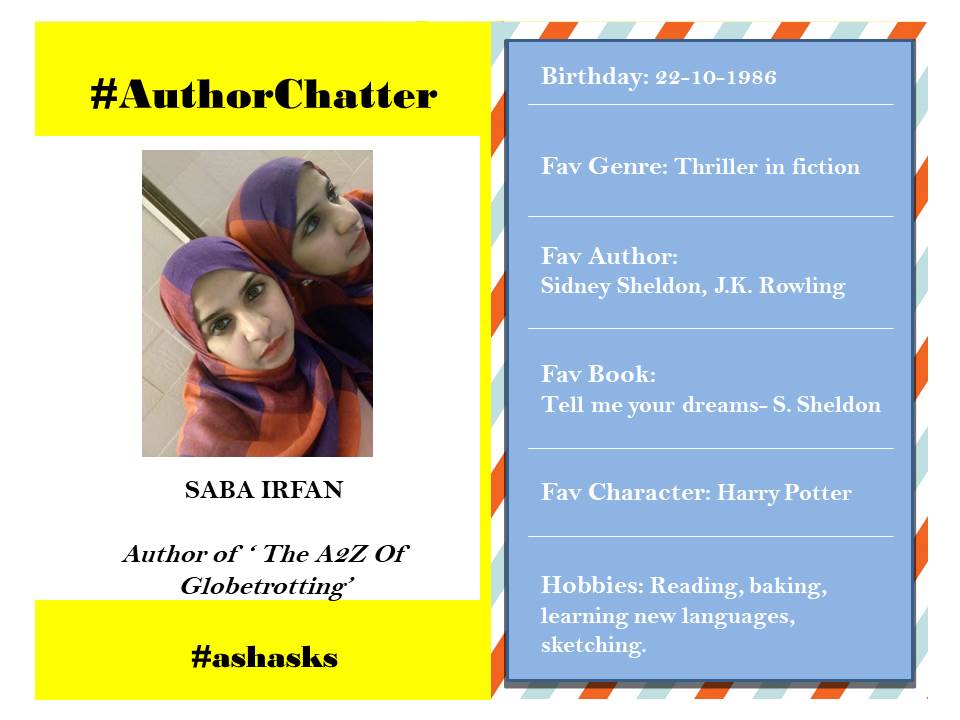 Interview
A book on globetrotting with mouth-watering images could not have been easy to do. How much time did it take you to put the content together from ideation to publish?
ANS. It took me more than three months to get it all ready.
Since you know six languages, do you write/ read in other languages as well? Most of us read only in English after school. Do you think people should read more in other languages as well?
ANS. Yes, I can read and write in more languages and I think there's no limit to learning. One should gain knowledge until the last breath! So, reading in other languages widens your bank of knowledge.
What tips would you like to give to travel writers?
ANS. Just keep on clicking those breathtaking scenes and share it to the world; let them explore those through your blogs or books.
When does inspiration strike you most often?
ANS. Well, it's mostly in a bathroom or at midnight when I suddenly get an idea and can't sleep any more. LOL
Would you like to explore other writing genres? Which and why?
ANS. I love to explore almost everything around me. But I want to concentrate more on fiction. I do think the style quite suits me.
Tell us about any quirky habits you have as a writer.
ANS. Hmmm, I tend to mould a comic situation out of a serious inspiration and guess what, people love those the most.
If you could be a city, which one would you be and why?
ANS. I would love to be Mumbai, the ever-active and most high-spirited city that's a melting pot of different cultures. 
How do you overcome Writer's Block?
ANS. Simple, I just take a power nap!
Describe your process for research while writing.
ANS. I carried out a lot of searches through Google pages and travel blogs. I then jotted down important notes in my book. Not to forget, I also called my friends who lived in these places to know first-hand about the speciality of these places.   
Share some valuable tips for publishing and marketing an eBook.
ANS. First, always keep reminding your followers on social media that you are a writer and have published an awesome book to read. Secondly, keep on editing till the last minute and thirdly, grow more with fellow writers, give reading love, get reading love!
eBook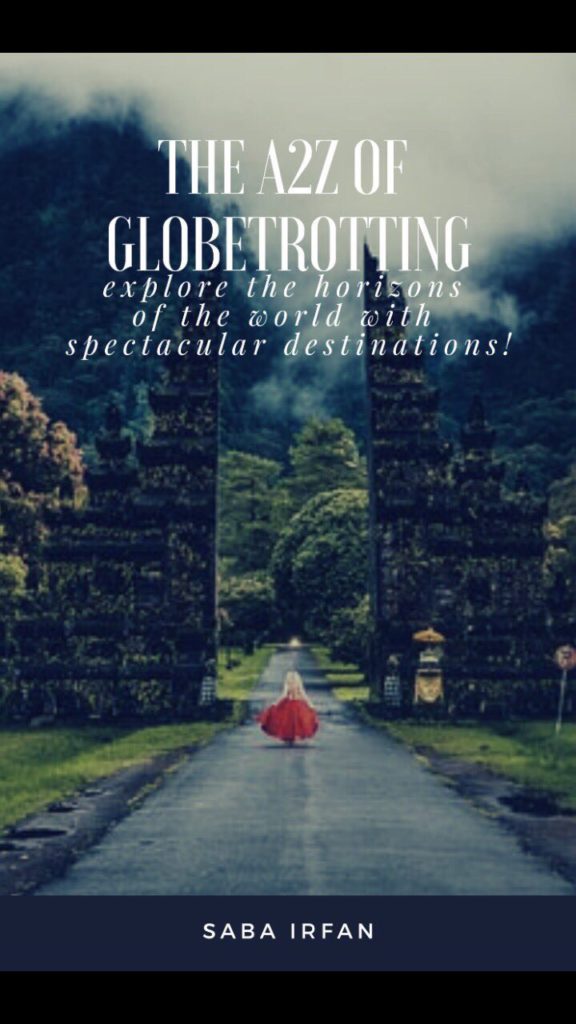 Book Blurb: 'A2Z of Globetrotting' is about the best travel locales across the globe. It takes you on an exhilarating journey where you get familiarised with the unique aspects of each travel destination.
Download Saba's eBook 'A2Z of Globetrotting' from BlogChatter's page or from Amazon. Do read fellow bloggers' Romila and Preeti' reviews of her book. You could also visit Saba's Goodreads page here.
Saba, best of luck your eBook and all your future endeavours. Wishing you lots of success!!
I would love to know how this interview experience was for you, @SabaLadha7. Fellow authors and bloggers, did you enjoy Saba's short and sweet interview? Do comment and share your thoughts.
How well do you know Aesha Shah? Find out more about her on Anshu's blog today.
And Mahek is being interviewed on Priya's blog.
This interview is a part of a series conducted jointly by @anshuwrites, @priyreflects and me. Hope you read all our interviews with newly published authors where they share their motivations, techniques and tips on publishing and marketing an eBook on Anshu's, Priya's and my blogs. Our aim is that each one of you finds something to take away from the honest and heartfelt experiences shared by the authors. 🙂 
Read all the previous #AuthorChatter interviews carried out by me here. Do check my blog tomorrow for another exciting interview!