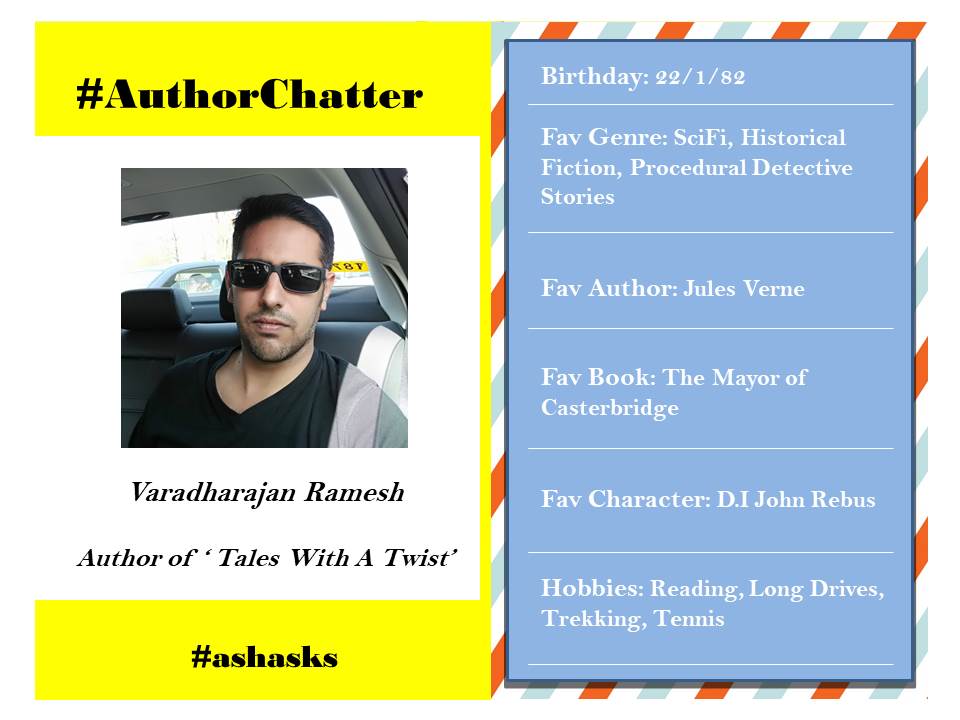 He's an extremely talented author. His detailed plots and delicious twists have regaled all of us. I always wondered, 'How does he do it every time??' So I asked him!! And you may be surprised, that for all the twists in his tales, the author comes across as a straight-talker! Hope you enjoy this 30-something entrepreneur, husband, father and storyteller's forthcoming approach to the interview.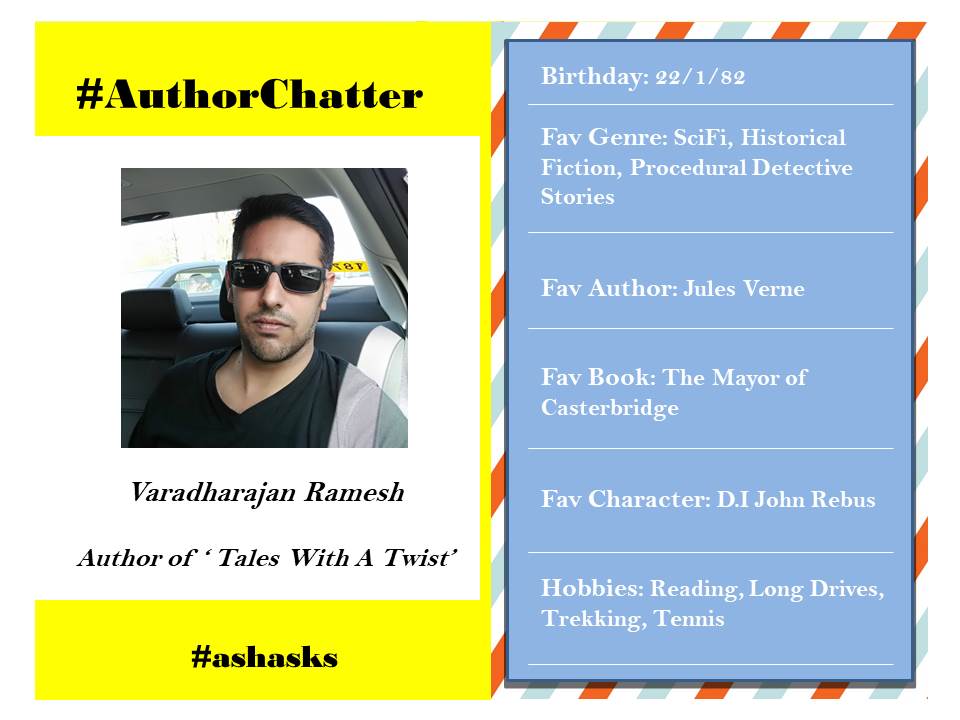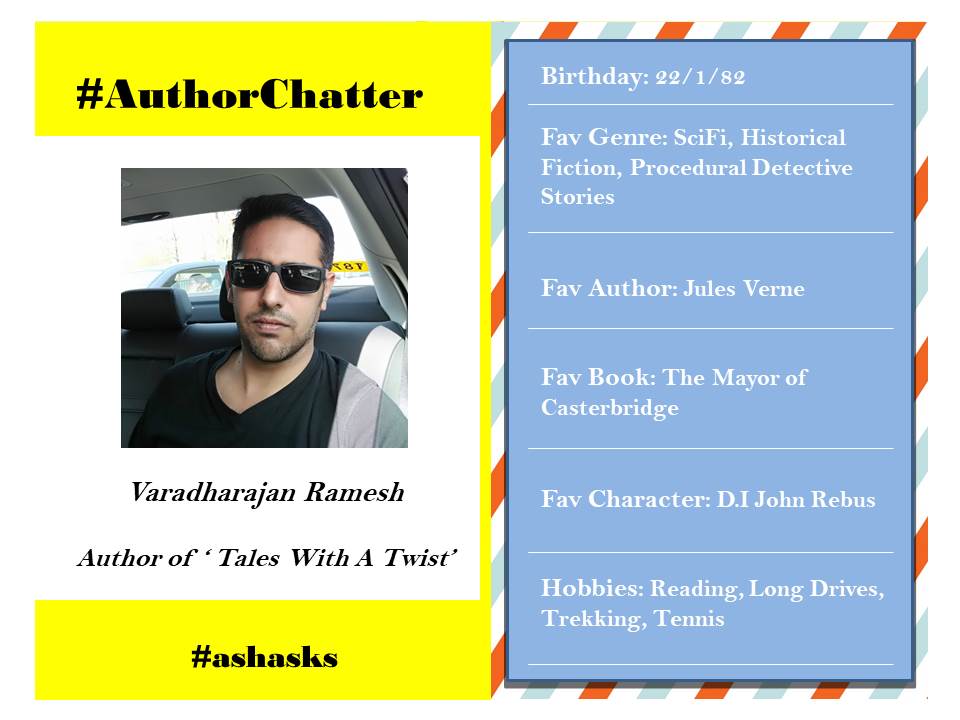 Interview
Q1. What was the process you followed for writing a collection of 23 short stories and a long one – all with a twist in the tale? Do you begin with the end in mind? How many hours does it take you from ideation to publishing a short story?
A: This book was born amidst chaos. I had written about 17 pieces of flash fiction for BlogChatter's AtoZ Challenge by the end of March, and then my laptop failed by the end of the first week of April and I lost 10 of the stories. If it hadn't been for my wife egging me on, I would have quit the challenge. I had no ideas or intentions of an eBook at that time. I was just hoping to churn out 19 more flash fiction stories and be done with it. But by the letter H, something interesting happened. I just kept writing and let the story develop and before I knew it, I was writing short stories.
The ideation part is much complicated than the concept of 'Oh! I need to write a story for the letter so and so and it should have a twist.' Some stories did begin with the end in mind. Some from the middle, for example, 'Perfection'. I thought of the investigative process described in the middle part of the story first and developed the story in both directions from there. The long story in the book started with a small scope and just developed into something grand as I kept writing. I do believe in letting the story take its own course.
Time-wise, I cannot put a number. Each story has its own organic development time. For example, I wrote the story 'Journey' in half an hour, whereas 'The Troubles of Time Travel' took me nearly twelve hours to write because of the sheer amount of homework I had to do to get the story into shape. Often, I didn't have enough time to even polish the rough edges of stories. I remember I used to think of plots and characters and twists while driving to and from work and used every single minute of spare time to write. Especially, towards the end, when the stories became longer it drained me to such an extent that I actually started resenting the look of MS Word and WordPress.
Q2. Which is your favourite story and character in your eBook and why?
A: Ok, I'm not going to give the cop-out answer of I like everything, they are all my babies, how can I pick just one etc.
My absolute favourite story from the book is 'Komberi Mookan' because I felt it was clever and sincere at the same time. I felt happy writing it and the twist gave me a lot of satisfaction.
My favourite character would be Carina from the story The Ultra. I was excited about the dimensions of this particular character. She is a mousy little girl, but with the courage of a lion. Carina is one of the most rounded characters in the whole book. A close second would be the narrator of Epicharikaky.  I'm sure those who would've read my book might have thought that I'd go for my super awesome detective (cheap plug :D) Malolan, but I have not introduced Malolan completely. This is just the teaser for the character, a 2D image if you will. Malolan will get his own novel soon and I hope that I'd be able to name him as my favourite character then.  
Q3. What are your thoughts on reading classic literature in today's day and age?
A: I feel it's absolutely essential for the digital generation. Books are windows to a different world. The closest we can come to time travel is through reading books and allowing our minds to be transported to the world portrayed in them. Classic literature can be torturous for the taste buds tempered by the works of Lee Child, Rick Riordan, Chetan Bhagat etc. But, the tragedies of Charles Dickens, adventures of Jules Verne, classic works of Alexandre Dumas, Thomas Hardy, they are just phenomenal. Who can forget the race against the clock in 'Around the World in Eighty Days,' or D'Artagnan and his adventures along with 'The Three Musketeers?'
Reading classic literature also comes with an added benefit of improving your language. I highly recommend grabbing a classic and settling down with a cup of coffee or tea to read it. If e-books are your thing, just go to Project Gutenberg. Most of the classics are available for free download here.
Q4. What are your thoughts on the following quote?
Everyone thinks writers must know more about the inside of the human head, but that's wrong. They know less, that's why they write. Trying to find out what everyone else takes for granted. – Margaret Atwood
A: No one knows about what's inside the human head. I mean, we have barely started to scratch the surface of the human brain, its potential, and basically the thought process of a particular human being.
As a writer, I'm more concerned with the characters I create. What defines them? What drives them? How might they react to a certain situation? What is their social quotient? Is a particular character based on someone I, the writer, know? If so, how much does the character resemble them? Is the character an amalgamation of two or more real people? What is the chemistry of one character with other? It's all a null hypothesis at the beginning. For example, if character A is an acerbic loner who smokes a lot, then the obvious conclusion is he/she will not be a team player. Now, I take this null hypothesis and test it by immersing the character in various situations. i.e., I start developing the character's arc in the story. Trust me, I've been quite surprised with the results as the story develops.
Now, coming back to the quote, I think the writers know something about what's in their characters' heads. The story is the journey they take along with their characters and they know more as they write more. The quote makes perfect sense.   
Q5. Is there a book that shaped your life and why?
A: There are quite a few. The first ever book I read was 'Oliver Twist' by Charles Dickens. I was 6/7 then and I didn't understand what was really going on. But the characters left an everlasting mark on me. Oliver's innocence, Fagin's cunning, Bill Sikes' brutality, Nancy's hopeless love towards Sikes and her gentle treatment of Oliver…I could go on and on about these fantastic characters. I read the book a few years later and was able to really appreciate the storytelling. Dickens tugs the heartstrings of his readers as he takes them on an emotional rollercoaster.
Another book which I read when I was quite young was 'The Count of Monte Cristo' by Alexandre Dumas. A fantastic tale of betrayal and revenge which gives me thrills even today.
A third book I need to mention is H. Rider Haggard's 'King Solomon's Mines.' A fantastic adventure story set in the deep, dark jungles of Africa.
I mentioned these books because they have helped me a lot in learning about writing characters and character arcs, plot settings, unexpected twists and finales. They taught me that a hero can come from anywhere. Case in point, Umbopa from King Solomon's Mines. They made me imagine fantastic and cruel worlds, good and evil men, happy and sad endings. These books made me dream about becoming a writer someday.
Q6. What is your ambition as a writer? Do you have a plan chalked out to achieve it?
A: I don't have any insane ambitions as a writer. I just want to tell stories my kids might want to read (at appropriate ages, obviously.) I'd be happy if someone recognizes that I'm a good storyteller. I have purposely not used the word 'writer' because writing is an art which is difficult to master and comes with a lot of pitfalls. I'd rather prefer to be a storyteller, whose only job is to entertain my readers with my stories and not requiring to run to the thesaurus for every second word.
I don't have any plan chalked out. I have been trying to write stories from the age of 10. I successfully wrote my first complete story when I was 35. I'm a newbie and I plan to take my time to hone my craft. I'll just let my stories take me on this very special journey, irrespective of time taken. That being said, who wouldn't want to be like Lee Child, David Baldacci or Chetan Bhagat who keep churning out books every year?
Q7. Which book-to-movie adaptation did you love and which did you hate?
A: Like: To Kill a Mockingbird, The Godfather, Tinker Tailor Soldier Spy, Lord of the Rings   
     Hate: Harry Potter series, The Hobbit, Hunger Games 
Q8. How do you overcome Writer's Block?
A: Fortunately, I haven't been hit by a severe case of writer's block yet, touch wood! But, I've had spells where I've just hated the look of the keyboard. In those times, I involve myself in some activities guaranteed to numb the mind like playing video games or watching How It Should Have Ended (HISHE) on YouTube.   
Q9. Describe your process for research while writing.
A: Organized chaos. I keep reading stuff off Wikipedia and bookmark them for future use if I find the subject fascinating. My browsers in both laptop and mobile have at least 20 open tabs each at any given time. Once I decide on a topic, I just keep reading relevant subjects and let the story develop inside my head.                    
Q10. Share some valuable tips for publishing and marketing an e-book.
A: I will not claim to be an authority on this as this is my first ever e-book and it is still in it PDF format only. I have a lot of work before I migrate it to KDP or any other platform. But, I can share what I did for marketing the PDF version. Other than the usual twitter, Facebook publicity, I heavily relied on my Whatsapp groups. I'm sure everyone will be a part of at least two Whatsapp groups and in those will be at least 100 members. I sent a link of my book and told them it is available for free for only two days. My book was downloaded nearly 200 times in the first couple of days. So, if you are willing to give a free sample of your book do try your personal network like your alumni group or colleagues group. If they are impressed with your work, they will recommend it to their contacts.
eBook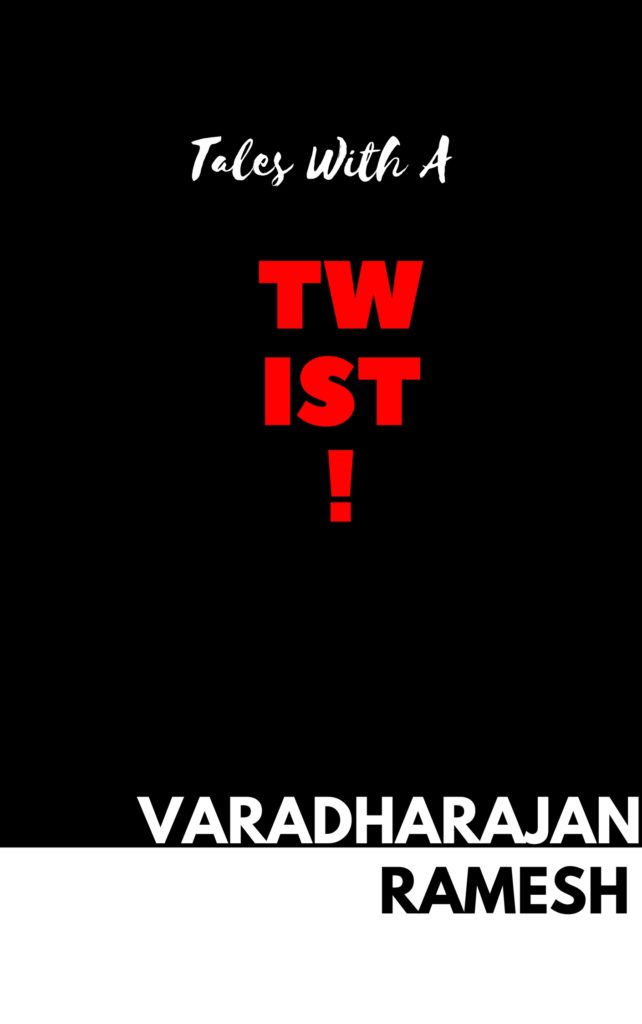 Book Blurb: What does a Superhero tale, a story about a football fan, and stories about an Investigative Journalist, A serial killer, A grandfather and a Detective have in common? A twist in the tale, obviously! Varadharajan Ramesh's debut book 'Tales With A Twist' is an anthology of short stories usually ending with a twist that would leave the reader surprised.
Download Varad's eBook from BlogChatter's page. Visit his Goodreads page and read reviews of his eBook by the following authors: Sonia Chatterjee, Nupur Maskara, Lavanya Srinivasan, Medha Nagur and Aesha Shah.
Here's wishing Varad all the best for the eBook and all his future endeavours. Wishing you lots of success!!
@VaradharajanR, do comment and let us know how this interview experience was for you. And do read, share and comment on your fellow author's interviews as well.
Fellow authors and bloggers, we would love to know your thoughts and views about Varad's interview. Do comment and share your thoughts.
Get to know Medha's motivations on Anshu's blog today while Kathakali shares her thoughts on Priya's blog. 
This interview is a part of a series conducted jointly by @anshuwrites, @priyreflects and me. Hope you read all our interviews with newly published authors where they share their motivations, techniques and tips on publishing and marketing an eBook on our blogs. Our aim is that each one of you finds something to take away from the honest and heartfelt experiences shared by the authors. 🙂