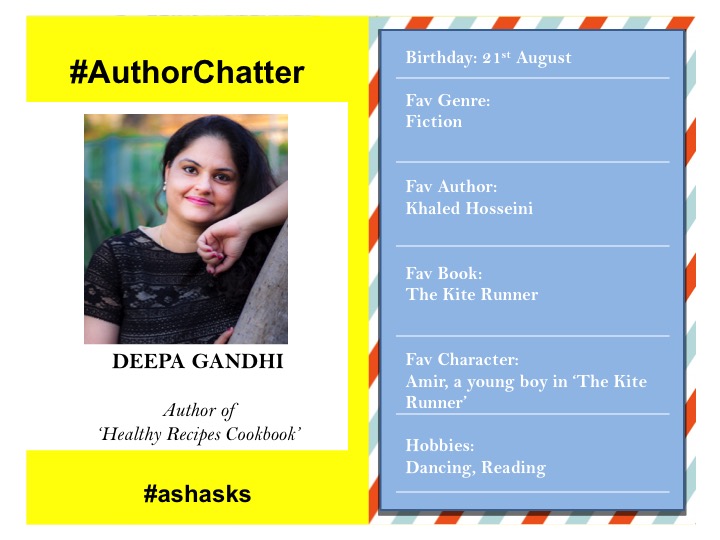 I usually lack the patience to cook elaborate meals. Truth be told, patience is something I do not possess at all! Everything should have taken place yesterday! For somebody like me, a book that has recipes for creating healthy home-cooks dishes in under 30 minutes is a big boon! Today you are going to meet the author of this incredible book, 'Healthy Recipe Cookbook'.
Deepa Gandhi is a Freelance Dietician and a Writer. Deepa also writes about parenting, health & travel. She shares her experiences as a mom and as a nutritionist in her blog www.kreativemommy.com. Her first book, 'Parenting Tips & Tricks' was born out of her own parenting journey of raising two young girls. She credits her children for her current book as well. I asked Deepa about her favourite recipe from the book and the one guilty pleasure she allows herself. These and several other tidbits about the author are revealed further in the interview.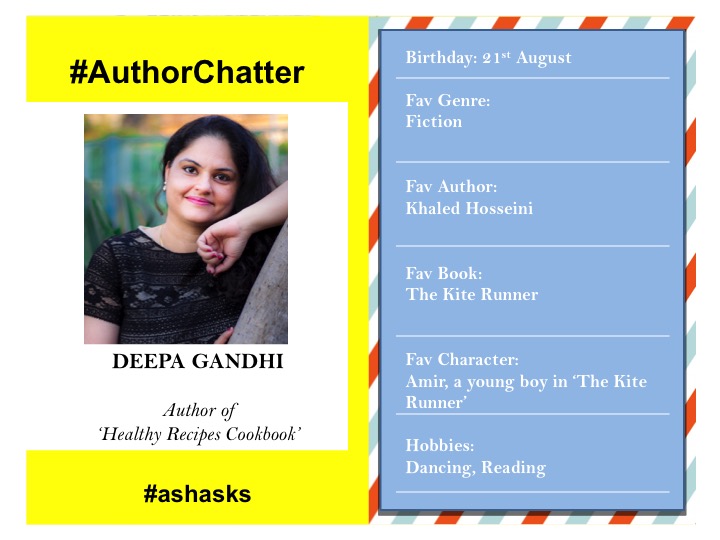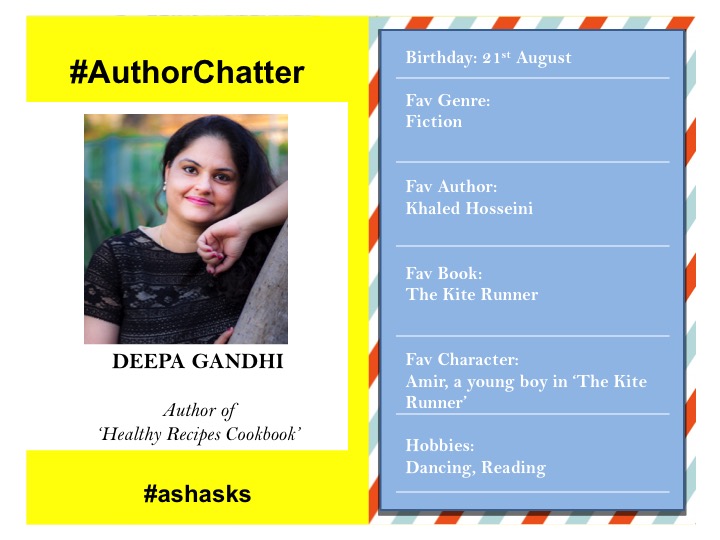 Interview
1. You are a nutritionist and a dietician. What prompted you to take up the offbeat career path?
A: Writing happened by chance. I started blogging a few years back just to pursue my passion for writing. Last year I got a chance to evolve into an author from a blogger. All thanks to BlogChatter. I am still a nutritionist and through my second and latest offering to my readers, I wish to impart nutrition tips along with healthy recipes. 
2. Your book has 18 quick and healthy recipes. Which one of these is your personal/ family's favourite and why?
A: It's difficult to choose one but my favourite is whole wheat walnut banana bread. My family loves it and I am glad they like it. It is not only yummy but a healthy alternative to a normal cake or bread. It is a great recipe for those kids who run away from fruits. Walnuts and bananas provide essential vitamins and minerals and a whole wheat base increases the health quotient.
3. Who is your inspiration in the culinary world?
A: My mom was a great cook and she is my inspiration for everything I cook. I always remember her when I cook something. She was my first teacher when it comes to cooking as I learnt watching her cook in the kitchen.
4. Which books on gastronomy have appealed to you in the past and why?
A: I am a big fan of Tarla Dalal and her cooking books. Her books 'Desi Khana' and 'Low-calorie health cooking' are my favourites. The latter book has some low-calorie recipe for health-conscious people. I like Tarla Dalal's style of cooking as it retains the original and authentic Indian touch in all recipes. 
Another good cook book that I read a few years back and tried some recipes from, is 'The science of good cooking' by Guy Crosby. This book focuses more on the basics of cooking and not so much on the recipes. My favourite part of this book is – 'Why the recipe works' section.
5. What are the key points to keep in mind while writing about food?
A: First of all, it's important to know your recipe well. Never write about something which you are yourself clueless about. Before finalizing a recipe for the book, make sure you try it and note down even the small details about it. Do mention all the points in the book which you feel a reader must know before trying your recipe.
Also, I feel that pictures are very important in a food book. Pictures not only attract the readers but give them an idea about how a recipe looks. So, it's important to use original pictures instead of photoshopped ones, so that a reader doesn't feel the difference when he/she actually tries the recipe.
6. If you were a fruit, which one would you be and why?
A: There are many but nothing beats mango. So, I would love to be a mango as it's my all-time favourite. It only comes for a few months but I try to cook different recipes using raw mango and the ripe ones. This year also I tried few new ones and one is a part of my cookbook too. It's called 'mango brown rice salad'. A perfect combination of healthy and yummy!
7. What is the one unhealthy comfort food that you indulge in once in a while?
A: I love chocolates and it is one thing which is hard to resist for me. Not only chocolate bars but anything made of chocolates is hard to resist. I do indulge in a chocolate cake every now and then. That's my comfort food and I do sometimes feel guilty after eating it. 
8. How do you overcome Writer's Block?
A: All writers get a writer's block in between as our minds are occupied with million things and it gets overwhelming at times. I actually look out for ideas around me and make a note of them when possible. Later on, I make use of those ideas to either create a post or an article. Also, going for a walk helps too when I am stuck at something.
9. Describe your process for research while writing.
A:
First of all, I decide on a topic.

Next step is to do a little research via the internet, books related to the topic or reach out to an expert or someone who has expertise on the topic.

Make notes and write down all the important points.
Start working on the body of the chapter.
Go over the content to review what needs to be added and what needs to be removed. 
Proofread
10. Share some valuable tips for publishing and marketing an eBook.
A: As both my books are through BlogChatter, I would say, do take part in 'eBook Carnival' arranged by them. Now I am sharing some tips which I learnt from them –
Decide on what you want to publish.
Get your manuscript ready before contacting a publisher.
Add your book on Goodreads as it gives the book the extra exposure.
Once published, plan a launch of the book.
Engage the readers through promotion on social media and book clubs.
Arrange book reviews as that really helps in marketing.
eBook
Book Blurb:
The author's mantra for this book is, 'Healthy but not boring'. Her experiments in the kitchen are inspired by her daughters, her inspiration for discovering healthy & yummy new recipes. She hopes to break the myth that healthy food is boring and tasteless.
Download Healthy Recipes Cookbook by Deepa Gandhi and start your journey towards healthy home-cooking today! Find Deepa on GoodReads as well. Find out what Mayuri has to say about Deepa's book in her book review.
Wish you lots of luck, Deepa, for your eBook and all your future endeavours!!
Hey @Deepagandhi1, you have definitely motivated me and hopefully some of my readers into taking up healthy cooking. Did you enjoy sharing your love for food through this interview? Do comment and let me know thoughts.
On Anshu's blog today you get to meet Huma who has published 'Dare to Dream', aself help/motivation book. Priya will interview Tina who has published an anthology of short stories, 'Bhoomi'.
This interview is a part of a series conducted jointly by @anshuwrites, @priyreflects and me. I had a lot of fun interacting with Arjun Gupta, Rashi Roy, Tomichan Matheikal, Varad , Saba, Kanika G, Neha Tambe, Monika Davessar and Reema D'Souza as well. In case you haven't caught those interviews, please do so and share your thoughts! Our aim is that each one of you finds something to take away from the honest and heartfelt experiences shared by the authors.